GIRLS' FOOTBALL TEAM
Girls Football in the community cup!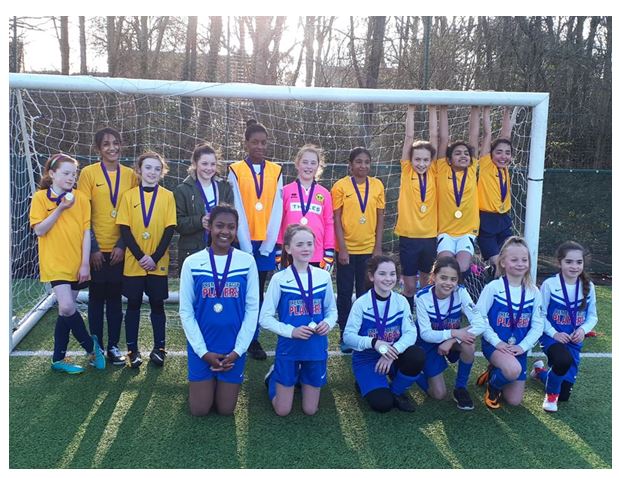 Last Thursday, 8th March, the girls football team competed in their final tournament of the year.
After a phenomenal year with the girls winning the district cup, going 12 games undefeated without conceding a single goal and finishing 7th in the Sussex final, they were looking to finish on a high. They didn't disappoint. Two wins and two draws with goals galore, and a hatrick from Esther saw them narrowly miss out on winning their group by 1 goal. However after these fantastic performances it saw them finish best overall runner up, and so they progressed to the semi final against Hilltop.
The semi final was won 1-0 thanks to a long range shot from Zohra. The final would be against Gossips Green Primary School.
The standard of the final was brilliant and it could have gone either way but after full time neither team could get that winning goal, so it came down to extra time!
Extra time would show the girls resilience and determination to win as even with tired legs they battled on to try and get that crucial goal. However it would be a penalty shoot out that would decide the winning team!
After what was a nail biting penalty shootout with great saves from Jean, the Gossips Green goal keeper, Three Bridges emerged WINNERS of the cup, winning 3-2 on penalties.
Mr Jenner would like to congratulate the girls on their positive attitude throughout the whole season, and thanks them all for their commitment and hard work. Some of the girls had never played football before but had all embraced the challenge! And to win a tournament on National Women's Day was simply amazing! Well Done to you all!
Mr K Jenner
Girls Sussex final 18th January
As a result of the girls football team winning the Crawley District cup back in October, they qualified to compete in the Sussex final at the Sussex FA headquarters in Lancing.
Last Thursday Mr Jenner, and the girls travelled to Lancing full of excitement at the prospect of playing the best teams Sussex had to offer. Shortly after arriving the girls were soon warming up allowing them to adapt to the pitch and be ready for any challenge.
Throughout the tournament they were simply amazing!
Win, lose or draw they gave it their all and by the end of the tournament they were completely exhausted. Although the girls didn't win the Sussex final, they came away feeling extremely proud of what they had achieved in such a short space of time, they are very excited to use the experience they've gained in future tournaments.
We are incredibly proud of the girl's professionalism and unity showed in every game. Mr Jenner would like to thank Mrs Wright who assisted in taking the girls to and from the tournament.
Mr Jenner would also like to thank all parents who came and supported the girls.