Walk for Water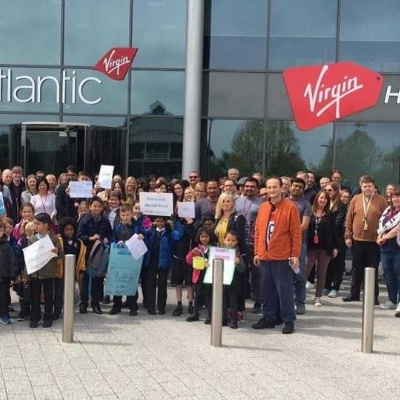 Eco Committee—Walk for Water By Sam and Stuthi in Reception
Last Friday the Eco Committee members walked all the way to Virgin Atlantic's Headquarters in Manor Royal to raise awareness about some children in Africa not having running water, because their country is so hot. This charity is called We Walk for Water so we walked 2.5 miles with lots of adults from Virgin, we even made our own posters and carried some buckets. By the end of the walk we were extremely tired, but we didn't mind, because it was for other children. And we even got to eat some yummy cakes and biscuits afterwards in the café.
Written by Sam and Stuthi in Reception.
Did you know that more than 840 million people around the world lack access to clean water? On 3rd May, WE Walk for Water asked people to walk, fundraise, and help them provide 80,000 people with access to clean water for life. We were very proud to take part in Virgin Atlantic's official Walk for Water around Manor Royal in Crawley.